Florida IAFF Newswire
Current news directly from Florida IAFF locals.
Paycheck Workshop
07/23/19 - IAFF Local 1403
Tuesday July 30th before General Membership Meeting come by an participate in our first "Paycheck Workshop" presented by Rick Fernandez.  1900- 2000 at the Union Hall.
Polk County Firefighters Benevolent 2019 Charity Golf Classic
07/14/19 - PCFFBF
Click picture for more information on sponsorship and participating as a team or individual player.
East Lake Fire Rescue Negotiations
06/25/19 - Clearwater Fire Fighters Association
Negotiations are underway for the new Collective Bargaining Agreement for the Members of East Lake Fire Rescue. Once it is completed and Ratified the new CBA will cover Fiscal Years 2019 - 2022.
July 11, 2019 - Nominations Accepted!
06/25/19 - IAFF Local 2980
Nominations will be accepted at our next General Meeting for the following positions: President Trustee Seat #1 Trustee Seat #3 The next General Meeting where nominations will be accepted is scheduled for July 11, 2019 – 7:00PM – At the Union Hall.
Call for Member Assistance
06/21/19 - IAFF 1826
https://www.gofundme.com/its-miller-time Bill Miller is a City of Fort Myers Engineer Paramedic . He was recently hospitalized for Congestive Heart Failure then a scan revealed pancreatic cancer that has metastasized to his liver. Bill lives in Sebring Florida but will be starting chemo and radiation next week in Tampa.
New E-62 Update
06/11/19 - IAFF local 2957
Leesburg Fire Department awaits the new Engine 62, in the works over at Ten-8 Fire / Pierce.  Check << here >> for the latest updates.
Thank you from the IAFF
06/06/19 - IAFF 1826
President Duncan, On behalf of IAFF General President Harold Schaitberger, the Muscular Dystrophy Association and the children and adults we serve, I would like to personally thank you and your members for taking the time to Fill the Boot for MDA. It's my understanding that you did an outstanding job this year! We are so thankful for your efforts.
Lt. Dewey Henry Scholarship Fund
06/05/19 - IAFF Local 1403
Metro-Dade Firefighters Local 1403 will like to congratulate the winners of this year's scholarship. First we would like to congratulate all the High School class of 2019 on their graduation and wish them the best on their upcoming journey. The selection of essays gets more difficult every year and this year it was no exception.
Emergency Elevator Training - August 27, 28 & 29, 2019
06/05/19 - Suncoast Firefighters
EMERGENCY ELEVATOR TRAINING by Mike Posner August 27, 28 & 29, 2019 Track 1 (4 hrs) Lecture Only - $25 Track 2 (8 hrs) Lecture & Hands On - $85 NOTE: Track 2 has ONLY 30 seats each day REGISTER at EVENTBRITE https://elevatoremergencytraining.eventbrite.com Registration is first come first served with approved payment.
Help Firefighter Joseph "Joey" Houlihan Recovery
05/30/19 - Suncoast Firefighters
On Friday May 24th 2019 while on his way home, Joseph was involved in a terrible vehicle accident. Due to the seriousness of the injuries he sustained to his Leg and Arm, Joseph is looking at a long road to recovery and returning to work. A GoFundMe account has been set up to help his family: http://link.email.dynect.net/link.php.
Golf Tournament
05/08/19 - IAFF Local 1403
Every September, professional firefighters/golfers, (including retirees) from all around the country and Canada get together in a different city to trade hats, shirts, and war stories and play some golf! It is a 3-day tournament for golfers of all abilities. You can enter as a four-man team, two-man team, or individuals. (Individuals will be flighted).
Support Our Brother Marc Weiss
05/04/19 - IAFF Local 3444
If you would please support our brother Marc Weiss, He has recently been diagnosed with pancreatic cancer. Below are links to purchase a Support T-Shirt. If anyone wants to order more than one, shoot us a msg with your email and the sizes and quantities you would like and we can send you a payment link. T-Shirt Shipped XXXL https://link.waveapps.
Historic Day in Tallahassee
05/03/19 - IAFF Local 1403
Local 1403 would like to say THANK YOU to Florida Governor Ron De Santis for signing SB 426 into law today. Today Florida is demonstrating its commitment to provide coverage for treatment for firefighters battling cancer. Thank you to the bill sponsors and representatives for your unwavering support. On behalf of Florida's firefighters and their families we THANK YOU.
IAFF Endorsement Philosphy
05/01/19 - IAFF 1826
To all Local 1826 Members, Please see the attachment containing the IAFF's Endorsement Philosophy and a letter From IAFF General President Schaitbereger titled: NO ON SHOULD TELL YOU HOW TO VOTE.
IAFF Endorses Biden for President in Democratic Primary
04/29/19 - IAFF 1826
It is your union's job to represent you on the issues that have a profound effect on your career - health and safety, wages, benefits and working conditions. It is not a duty we take lightly and not one we will not shy away from.
Last Alarm - Firefighter/Paramedic Anthony Martinez
04/23/19 - Suncoast Firefighters
Last Alarm - Retired Firefighter Paramedic Anthony Martinez - Suncoast Local 2546 - Sarasota County Fire Department
April 30 Rally in Tally Event Cancelled
04/23/19 - Suncoast Firefighters
The planned 4-30-19 trip has been cancelled on the recommendation of the FPF E-Board during a strategy conference call last Friday. Brothers and Sisters of the FPF 7th District, A quick heads up to all members that were interested in our second planned trip to Tally for the purpose of raising awareness for our Firefighter Cancer Coverage Bill.
IAFF President Letter, No one should tell you how to vote
04/18/19 - IAFF 1826
:To all Local 1826 Members, Letter from IAFF General President Harold Schaitberger: No One Should Tell You How to Vote In my travels throughout the United States and Canada, members frequently ask me why our union is politically active.
2019 MDA Boot Drive
03/20/19 - IAFF 1826
Hello, Local 1826!! I know everyone is anxiously awaiting after San Carlos went out this past weekend…..WELL… YOU ALL DID IT, OVER $250,000 raised for MDA and our local families in SWFL! I am still waiting on final bank totals, which I should have back late this week and will send out your final newsletter to show everyone's official totals.
10th Annual Fire Ops 101
03/19/19 - Florida Prof. Fire Fighters District 2
FF Jeffery Roper
03/18/19 - IAFF Local 1403
In a moment's notice within the blink of an eye Stephanie Roper unexpectedly passed away. Stephanie Roper is the wife of our MDFR brother Jeffery Roper who works on R 78 C Shift. I was fortunate enough to have met Stephanie, and let me just say she was a very special person, a great mother, and a dedicated and caring wife.
Promotions
03/05/19 - IAFF Local 4208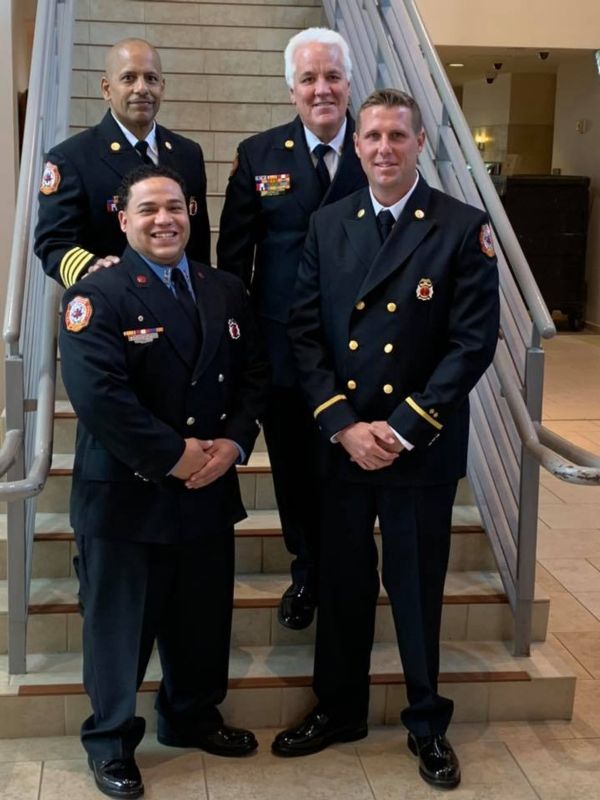 Congrats to our two newest promotions! Lieutenant Matt Petrasko and Engineer David Pabon!
Last Alarm - Brother Wesley H. Weysham, Jr.
02/28/19 - Suncoast Firefighters
Last Alarm - Brother Wesley H. Weysham, Jr. - Suncoast Local 2546 - Sarasota County Fire Department
Promotions
02/01/19 - IAFF Local 4208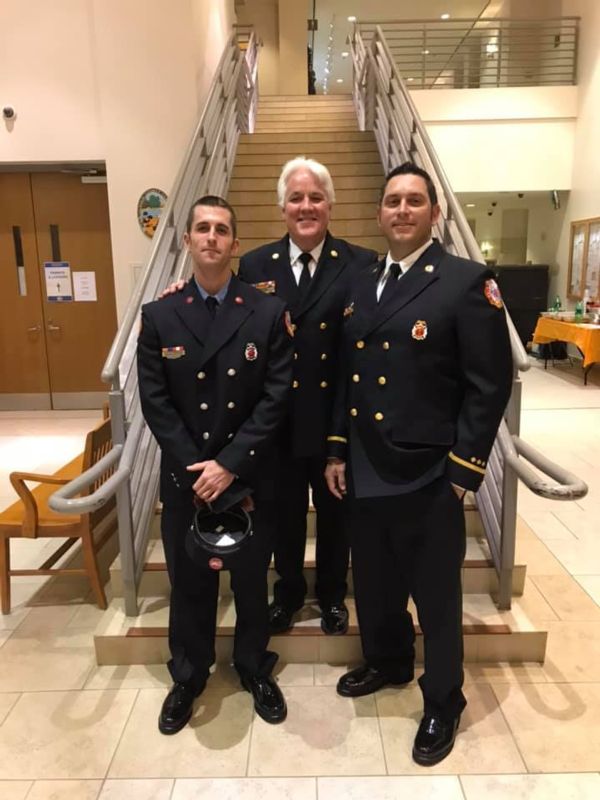 Congratulations to President Stephen Gonnella who was recently promoted to  Lieutenant and to Justin Greenhill who was promoted to the rank of Engineer.
Peer Support Resources
01/22/19 - IAFF 1826
To all Local 1826 Members, A Peer Support Resources page has been added to our web site, simply go to "Member Resources" and scan down to "Peer Support Resources". Peer Support Resources is a quick reference for each of Local 1826 Districts Group Insurance provider, EAP Provider and contact person.